Desert Desperados
The Desert Desperados shoots at Desert Sportsman's Rifle and Pistol Club
located on West Charleston Blvd. 12 miles west of I-15.
The Desperados shoot on the 3rd Sunday of the Month.
February 17th, 2023
Range 10 (B,C,D) and Range 3
Setup at 7am, side matches at 8am and main match at 9am
Match Scores for Desert Desperados
For more info.
Buffalo Sam 459-6454 or E-Mail BUFFALO SAM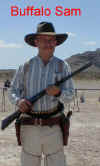 (Click Picture for
up close look)



Back to Nevada CAS Home Page